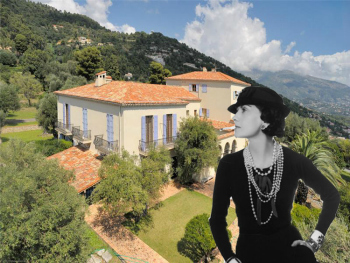 Back in 2012, I wrote about Coco Chanel's Villa La Pausa on my other blog. We had recently been in the South of France for Carnaval and scooted across the border into Italy where I found a promising fixer upper. Ray could not see the potential. Okay, maybe I couldn't see the potential but I was willing to try to find some potential in this ruin. It truly was a ruin.
While writing about this 'amazing' Italian fixer upper, I stumbled upon an article about La Pausa, Chanel's villa in Roquebrune-Cap-Martin. We stayed in Menton which was close to Roquebrune-Cap-Martin. What I didn't know at the time…the villa was for sale. €50 million, a bargain. That would be about $61,862,500.00 today. Not a fixer upper, although it did need some work.
A little background on this 'holiday home'
Chanel purchased the five acre plot in 1928, the seven bedroom villa was completed in 1930. Coco designed it as a holiday home for herself and the Duke of Westminster. She was actively involved in the design, building and decoration. Coco made monthly visits from Paris to check on its progress.
At 10,000 square feet, her holiday home was large enough for entertaining their friends. The villa has two kitchens, three living rooms, a dining room, staff quarters, and of course terraces (this is the South of France after all). It also has two guest villas with magnificent views of the Mediterranean.
In 1954, after the Duke passed, Chanel sold La Pausa—fully furnished to Emery Reves, an American writer and publisher. The Reves' picked up where Coco left off…they entertained lavishly.
When Mr Reves passed, his widow Wendy, lived there until her death in 2007. It sat vacant until 2012 when Sotheby's Realty listed this historic property (and I found it online) for sale. Sotheby's pulled the listing due to pending litigation. With the legal issues behind, it was back on the market.
In 2015, The House of Chanel purchased La Pausa for €40 million. Hopefully, it will be opened to the public…for at least a few days a year. I'll be watching and waiting.
Photos above courtesy of Sotheby's Realty.
This my friends, was the fixer upper in Italy.
Just needs a bit of weeding…
A girl can dream…